Meet Your New Support System
Immune support in just four daily sprays.
Shop the Hive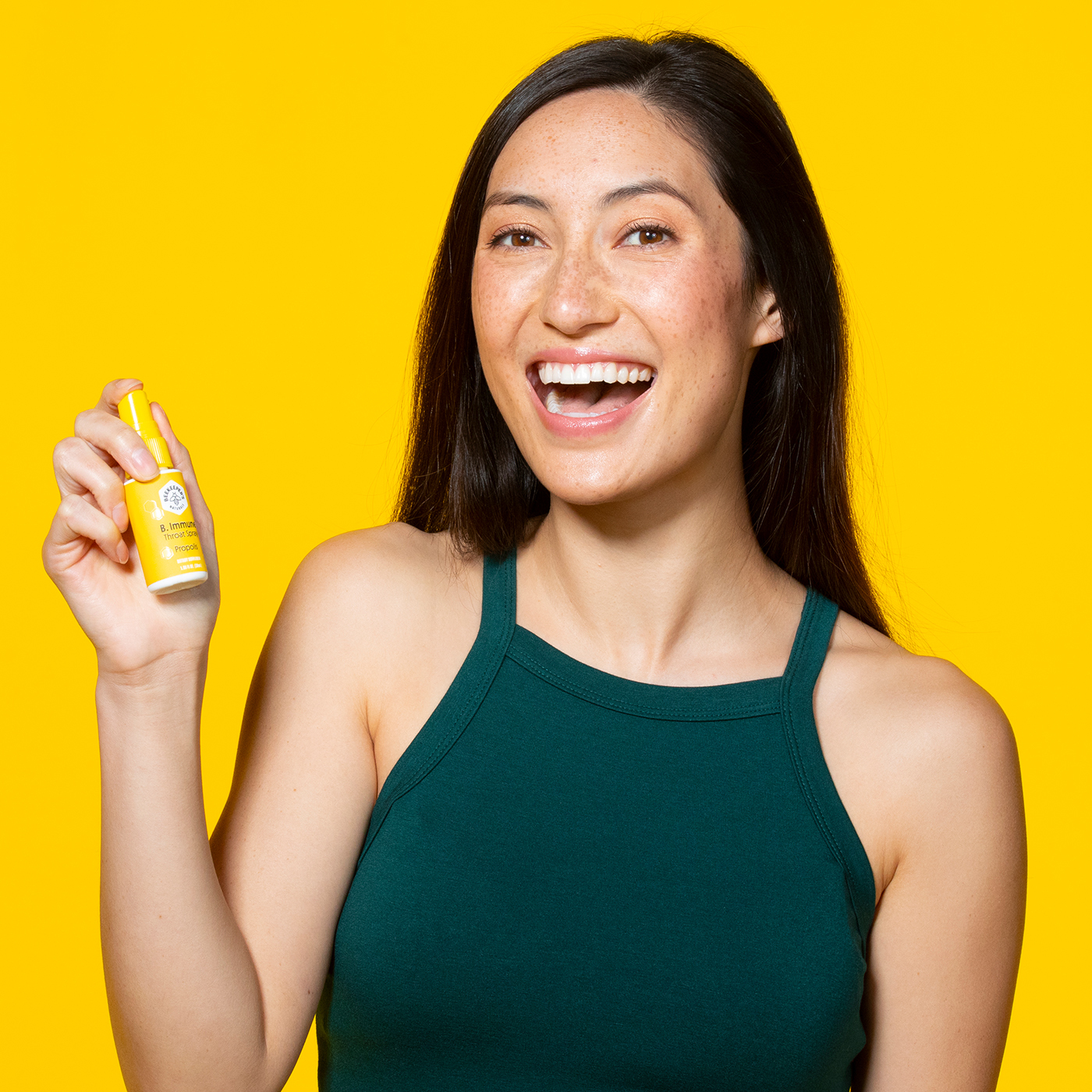 The medicine of the beehive
Propolis contains Vitamin C, iron, zinc, B vitamins, and 300+ more beneficial compounds!
Immunity Support
Hive-powered immune support.
Throat Soothing
Calm a scratchy throat with soothing, clean ingredients.
Powered by Propolis
The beehive's immune-supporting secret weapon.
3rd Party Lab Tested
To ensure your order arrives free of pesticides + heavy metals.
B.Immune Throat Spray
Show your immune system some love with your daily dose of bee propolis. This all-star ingredient contains antioxidants and other immune-boosting compounds in every spritz. 30ml (1.06 fl oz)
B.Soothed Elderberry Lozenges
We combined the hive's two most powerful throat soothers (honey and propolis) with elderberry (renowned for its powerful polyphenols and anthocyanins) to create a clean cough drop with only one gram of sugar. These don't just mask your symptoms; they support your overall immune health so you can get back to feeling like yourself. And by the way, they taste amazing.

14 pack / 50g
B.Immune Starter Pack (Elderberry)
Immune support in just four daily sprays. Vitamin C, zinc, iron, flavonoids, and B vitamins.
Lozenge 14 pack: Clean cough drops with propolis, honey, zinc, iron, and only 1g of sugar.
B.Immune x1, B.Soothed Lozenges x1
Meet Your New Support System
Beekeeper's Naturals is the hive-powered, science-backed solution to staying healthy and feeling your best.
We tackle today's most pressing health issues— from low immunity to brain fog to depleted energy—with smart formulas made from clean ingredients and sourced sustainably from our favorite pollinators.
Propolis, the immune system of the beehive, is our all-star ingredient that contains vitamin C, zinc, iron, B vitamins, flavonoids, and more beneficial compounds.
LEARN MORE
Clean Medicine From the Hive
We aren't just creating cleaner alternatives to the traditional medicine cabinet; we're creating all-around cleaner products. Period. We merge modern science with natural medicine to prove that clean medicine can actually work.
LEARN MORE
What's the Buzz about?
"I'm convinced this $13 throat spray with ingredients produced by bees has helped my immune system."
"If honey is the bee's energy source, think of propolis as the insect's form of an antibiotic."
"This might be the fastest all-natural way to soothe a sore throat."
Don't be shy, Ask away
We love to talk about sourcing. All of our products come from small-scale, remote apiaries primarily across Canada and the US, as well as exotic regions around the world such as the Brazilian rainforest. We work with our apiary partners to ensure that our bee products are sustainably-sourced and of the highest quality. We always put the health of the bees first.
Every third bite of food you eat comes from the bees. Without them, we'd lose apples, almonds, cucumbers, blueberries, broccoli, cauliflower, and more if the bees disappear. And that's just one of the many consequences of losing our buzzing yellow friends.
There is rarely a correlation between allergies to bee stings (bee venom) and bee products. However, we always recommend consulting with a health professional in situations like this. Your safety is our number-one priority.
Our products are not certified organic, but we do third-party test all of our formulas for pesticides and heavy metals to ensure that we only bottle the very best ingredients.
Because bees fly and forage from areas far outside the certified organic radius, this certification doesn't have the same importance when you're buying bee products as it does when you're buying produce. What's more, most small, sustainable beekeepers can't afford the certification process. The larger, commercial beekeepers who can pay for the certification don't always practice sustainable beekeeping or treat their bees like family (as we do). Consider that food for thought next time you're buying honey or clean medicines made with honey.
We did, but the same formulas you love are still inside every bottle. What can we say, we're just keeping you on your toes.
B.LXR Brain Fuel is now B.Smart Brain Fuel. Propolis Throat Spray is now B.Immune Throat Spray. Bee Pollen is now B.Fueled Bee Pollen. B.Soothed Cough Syrup is now B.Better Cough Syrup.